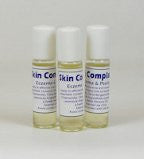 Skin Complaints (10ml Rollerball) Psoriasis and Ezcema
For Dry Skin Problems such as Eczema, Psoriasis, Dermatitis,or other crusty or flaky skin complaints.
This blend of Lavender, Chamomile and Bergamot essential oils can alleviate itching and moisturise the dry, damaged skin.
Bergamot is a natural source of vitamin D, (like the sunlight), and particularly effective when used for Psoriasis.
These pure natural oils are based in Almond carrier oil, a natural moistuiser in itself.
This has been one of our most popular preparations for psoriasis for over 20 years..
(Where the condition is EXTREMELY itchy, then consider our Comfrey Cream as an alternative)

External use only.
---
We Also Recommend