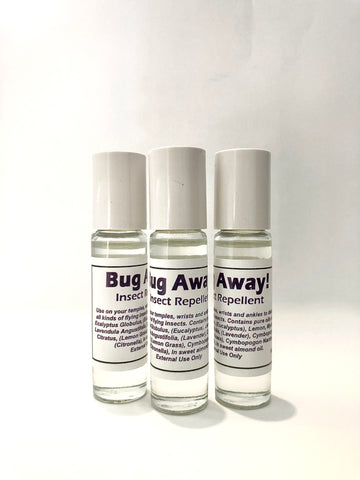 Bug Away (10ml Rollerball) Natural Insect Repellent
This Handy size Roll-On is packed with FIVE powerful, but natural, essential oils, to repel flying insects, especially Mosquitos and Midges.
Apply it to the areas you normally get bitten, (ankles, legs, arms, anywhere!)
NEW & IMPROVED...extra Lemon, Myrtle and Eucalyptus has now been added to avoid the misery of mosquito bites. In addition to Citronella and Lemongrass.
This is a MUST HAVE when travelling on holiday, if you want to keep the bugs away and avoid being bitten!
100% Natural, absolutely NO chemicals and it's 100% safe to use on children.
One 'Bug Away' lasts one person approximately one week.
Delivery to anywhere in the U.K. is only 2 to 3 days!
Delivery to Ireland and other EU, please allow 10 working days, (but most orders are delivered within 7 days) The shipping fee for Ireland now includes an end to end tracking service.
External Use Only
REVIEWS...
'I've been using Bug Away, Amazing stuff!  I've actually watched mosquitos hover over my skin and fly away!  Literally not had a single bite in all the time I've used it. Really really recommend it.         Mikaila Elkington - Salou, Catalonia.
'Anyone going on holiday and always gets bitten by the dreaded mosquitos, then I highly recommend using this Bug Away.  I always get bitten alive but this year I only got one bite, and that was the night I forgot to put it on!     Antony Collins - Bangor, County Down
'Just got back from two very hot weeks in Salou. Me, hubby, 2 kids, not a single bite. This is a miracle for us as we got eaten alive by mozzies in September last year.  Bug Away is something we will buy before every holiday in future.   Maureen Dwyer, - Antrim 
'Just got back from Port Salou, and took 4 of these away with us. My husband and daughter are usually like a buffet to local mosquitoes! My daughter put this on religiously and hasn't been bitten, husband forgot to put it on last night and got bitten 🦟. Brilliant stuff and smells amazing too 😍   Nicola Bryant, - Higham Ferrers, Rushden.

' I used it this year with garlic capsules every and it's the first time I haven't been bitten. It's great stuff. It's the only thing that has ever worked for me, usually get bitten badly, but not this year.    
Angela Pacitti, - Alloa
'Bug away, I used it first time last year did not get bit once first time in 20+yrs I've been going to Spain, let's just say I order it quite regularly not just for holidays, but I use it at home as well'      Linda Oldfield, - Prestatyn.
' I bought 2 of these for my 10 day holiday as I always get bitten and they then swell. I used this every night and not 1 bite. One night I forgot to use it and got bitten 10+ times. It really does work and I've tried everything. Will definitely be buying again for my next holiday.    Micaela Carlin, - Omagh N Ireland.
---
We Also Recommend