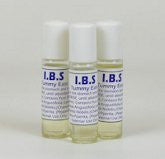 I.B.S. (Tummy ease) 10ml Rollerball
This blend of Pure Lavender, Chamomile and Peppermint essential oils is a soothing aid for easing flatulence, cramps and bloating.
Massage in gently to the stomach (in a clockwise direction!).... if you are RIGHT HANDED that is the natural way you massage your tummy anyway.
Remember, Your digestive system flows in a Clockwise direction.... therefore do not massage against the flow of your food.
Can bring comfort to those suffering from digestion problems.

External Use only.
---
We Also Recommend