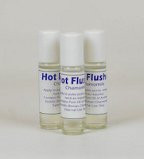 Hot Flushes (Chamomile) 10ml Rollerball
Chamomile, pure essential oil, a natural coolant for the blood, for those moments when the Hot Flushes come over you.  Chamomile is well known as a hormonal relaxant.
Keep this handy, as the flushes can strike in the night (hot sweats) or anytime during the day.

For Hot Flushes and menopause symptoms
Pure Roman Chamomile Oil in a Sweet Almond Carrier Oil
Apply to temples, wrists, any pulse points when needed in the daytime.
At bed time, massage some into the soles of your feet, to reduce the intensity of night sweats.  Our returning customers tell us that the 'foot massage' is the very best way to alleviate night sweats.

External use only, Do not swallow.
---
We Also Recommend