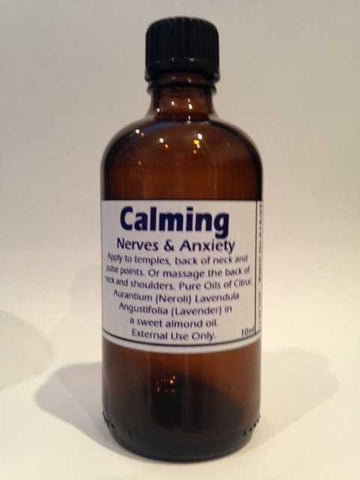 Calming (100ml Bottle) for Nerves and Anxiety.
CALMING    Remedy Oil for Nervousness, Anxiety and Depression.
Large 100ml Amber Bottle

This is a powerful blend of Neroli and Lavender pure essential oils, based in a sweet almond carrier oil.
Neroli is a natural anti-anxiety agent.  It has a beautiful rich, deeply woody and slightly orange aroma.
Blended with Lavender, Neroli is a calming and sedative experience.
Apply to the temples, pulse points, or you can inhale it deeply.
Alternatively, apply the oil via a neck and shoulder massage, if you are helping someone else.
Also, if it's convenient, massage this oil into the soles of your feet for a blissful massage.
The purpose of this blend is to uplift the individual, and improve the general mood.
For external use only.
---
We Also Recommend