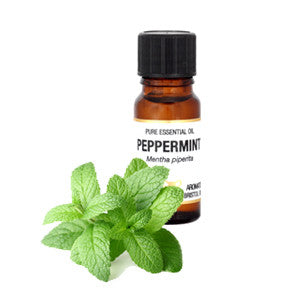 Peppermint Pure essential oil 10ml
Peppermint Essential is a very versatile oil.
It's good for calming itchy skin (you just need to add four or five drops to your bath). It may also calm upset tummys - try diluting it in a carrier oil and then massaging the affected area in a clockwise direction. Massage treatment may also help improve digestion and reduce flatulence.   (See our ready-made IBS massage oil)
You may also find it useful in a foot bath (not more than 3 drops) to cool and de-odourise feet.

Good to use in conjunction with Lavender and Marjoram during winter, either as a chest rub (diluted with carrier oils) or to burn or vaporise when it will help to clear a blocked nose and congested sinuses. Peppermint has a lovely cooling action which can also help to clear nasal passages when used in a steam inhalation.

---
We Also Recommend