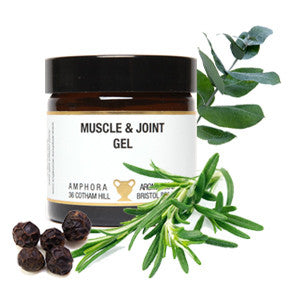 Muscle and Joint Gel (60ml Jar)
A best seller, for Arthritis and Joint Pain
Made with Herbal Extracts and Essential Oils. With Oils of Eucalyptus, Rosemary, Black Pepper and Camphor to warm and stimulate muscles.

This special gel can help to ease Muscles and Joints. A hugely popular product with many of our customers.

Excellent to apply after gardening and strenuous exercise.

Properties
Eases muscles and Joints

Constituents/Active Ingredients
Eucalyptus Essential Oil
Rosemary Essential Oil
Black Pepper Essential Oil
Camphor Essential Oil

Safety
AVOID CONTACT WITH EYES. IF EYES ARE AFFECTED WASH THOROUGHLY AND IMMEDIATELY WITH WARM WATER. DO NOT RUB.
KEEP OUT OF REACH OF CHILDREN.
DO NOT SWALLOW.
FOR EXTERNAL USE ONLY.
---
We Also Recommend