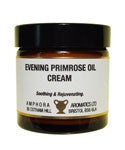 Evening Primrose Oil Cream. (60ml Jar)
Made with Herbal Extracts and Natural Oils.

Evening Primrose has excellent moisturising and emollient properties which help to make the skin silky and smooth. Amphora Evening Primrose Oil has a high content of Linoleic Acid (GLA), an essential polyunsaturated fatty acid that is converted to prostaglandins (extremely potent hormone like substances present in many tissues).
Often used as a Day cream or Night cream to feed and nurture the skin.

A lovely tonic for inflammatory conditions. The Aloe Vera content also helps to soothe and cool.

This cream also makes a good base for mixing with Essential Oils.

Constituents/Active Ingredients
Evening Primrose Oil
Aloe Vera
Henna Extract
Wheatgerm Extract.

Safety
KEEP OUT OF REACH OF CHILDREN. DO NOT SWALLOW. FOR EXTERNAL USE ONLY.