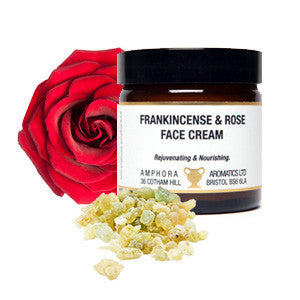 Frankincense and Rose Face Cream (60ml Jar)
Our most popular moisturising face cream contains rejuvenating Frankincense & Rose Oils, with balancing and cleansing Geranium Oil. You will just love it!

This is an excellent anti-age face cream as it is exceptionally beneficial for dry & mature skin due to its moisturising and nourishing qualities. Many customers tell us that they prefer this cream to the more expensive solutions available. So you can save money and look and feel great!

With regular use it helps smooth fine lines and wrinkles and improves the skin's elasticity.
With its mild Aloe Vera base, this is just the most fantastic Night Cream or Hand Cream.  It is packed with all the essential oils used by the most expensive beauticians such as Clarins and Clinique.

Smells heavenly too!

Historial Background
In ancient Egypt, Frankincense was used in rejuvenating face-masks, cosmetics and perfumes. Symbolism of the Rose is traditionally associated with Venus the Roman Goddess of Love and Beauty. The Greek poet Sappho in the 6th century BC described Rose as being the Queen of the Flowers.

Properties
Rejuvenating, moisturising and nourishing.

Constituents/Active Ingredients
Frankincense Essential Oil
Rose Maroc Absolute
Geranium Essential Oil
Chamomile Roman Essential Oil
Lavender Essential Oil

Safety
KEEP OUT OF REACH OF CHILDREN. DO NOT SWALLOW. FOR EXTERNAL USE ONLY
---
We Also Recommend